Making Gingerbread Eggnog at home is actually quite easy. The gingery taste of the eggnog is perfect to add to coffee, a gingerbread martini, or just topping with whipped cream for the kiddos! I used to buy gingerbread eggnog at the store to add to my cappuccino, instead of milk. I prefer to make up a batch with fresh eggs, and lots of ginger and nutmeg! I can control how much sugar and how much spice to give it a less sweet, more flavorful taste!
We think this is worth a few moments of your weekend, to make up a batch to use for your coffee, to drink as is, and most definately mixed with a little rum, or bourbon. Cheers!
What you will need to make this Gingerbread Eggnog:
Eggs
Molasses
Brown sugar
Nutmeg
Ground Ginger
Cinnamon
Salt
Vanilla
Heavy whipping cream
Milk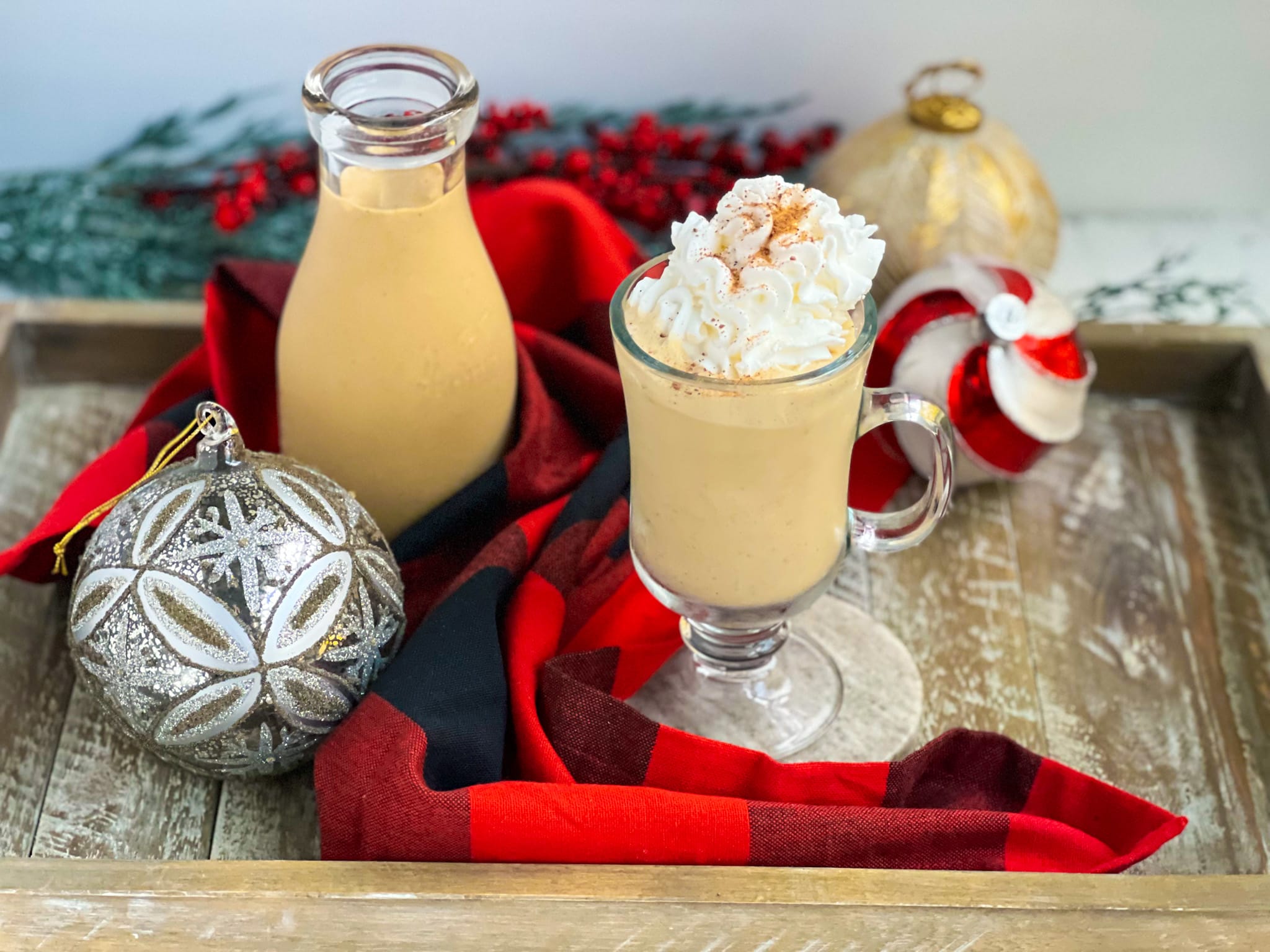 Ingredients
Ingredients for Gingerbread Eggnog
6

large egg yolks

¼

cup

molasses

¼

cup

brown sugar

2

teaspoons

ground nutmeg

3

teaspoons

ginger

1

teaspoon

cinnamon

Pinch

of salt

2

teaspoons

vanilla

1

cup

heavy whipping cream

3

cups

milk
Instructions
Begin by separating egg yolks from egg whites. Save the egg whites to use in another recipe. Put egg yolks in a bowl, and add in brown sugar and molasses. Add in spices, salt, and whisk till creamy. Set aside.

In a medium saucepan, warm up the milk and heavy cream until steamy. Be sure to stir with a wooden spoon or whisk while heating to avoid the milk burning on bottom of the pan.

Now it is time to temper the eggs. Once the milk mixture is warm, using a cup or ladle, measure half of it into the egg mixture, constantly stirring. It is now time to add the egg mixture back into the remaining warm milk mixture.

Continue to cook until mixture thickens slightly, and coats the back of a spoon. Using a candy thermometer, cook until temperature registers 160 F. Remove from heat,  add vanilla, and cool. If weather is cool outside, allow to cool covered on the back porch. Then finish cooling in the fridge.

At this point, you can keep the mixture as is in a mason jar, or mix with additional milk if serving as eggnog with no alcohol. If you plan to use to make boozy eggnog, simply add rum, or bourbon, and a bit of milk as needed.
Notes
This makes a thicker batch of eggnog. If you plan to drink as just eggnog, you will want to thin it with milk. If you plan to add to coffee, or make a gingerbread eggnog martini, then leave as is in order to have enough gingery flavor!
Time for a little dessert martini action…