For all the devoted apple enthusiasts out there, prepare to have your taste buds tantalized and your cocktail cravings satisfied with this extraordinary green apple martini recipe! Say goodbye to store-bought green apple schnapps or artificially flavored vodka because we're about to create a sublime Appletini using the crisp and tart freshness of Granny Smith apples. Emphasizing natural flavors over artificial additives, this recipe promises a perfect harmony of sour apple essence, employing a combination of lime juice, simple syrup, and plain vodka.
Unlike some Appletini recipes that call for apple brandy, which infuses the drink with a warmer and slightly different taste, our focus remains on a truly sour apple martini experience. We crave that tangy, vibrant green drink that sings with every sip. No apple juice here; only the authentic essence of Granny Smith apples.
To achieve this invigorating flavor, we recommend selecting the finest, freshest Granny Smith apples, preferably during the fall and winter seasons when their sweetness and tartness are at their peak. With these exquisite apples, your Appletini will boast an unmatched zest and brightness.
However, if you're feeling adventurous and wish to elevate the green apple vodka profile, you have the option of infusing your own concoction. It's remarkably simple; just steep green apple slices in your favorite vodka for a few days. This infusion process yields a unique and personalized touch to your cocktail, allowing you to savor the delight of creating something truly special.
Some traditional Appletini recipes call for the use of simple syrup to balance out the sourness of the Granny Smith apples. However, in this variation, we've decided to skip the simple syrup altogether. By doing so, we intensify the sour apple flavor, allowing the orange or elderflower liquor to provide just enough sweetness. This approach caters to those who prefer a more pronounced sour profile in their apple martini. However, for those with a sweeter inclination, a dash of simple syrup can be added to your taste preference.
The beauty of the green apple martini lies not only in its captivating flavor but also in its simplicity. With just a handful of readily available ingredients, you can whip up this exceptional cocktail in no time. This makes it the perfect choice for an impromptu gathering with friends or a soothing nightcap after a long day.
The art of mixology comes alive when creating this Appletini, as you combine the vibrant green hue of the Granny Smith apples with the crystal-clear vodka, topped off with a refreshing splash of lime juice. The result is a visually stunning drink that your friends will love!
So, whether you're a seasoned mixologist or a cocktail enthusiast experimenting in the home bar, this green apple martini is a must-try. Transport yourself to a realm of enchanting flavors and enjoy the magic of sipping on this extraordinary Appletini. Cheers to the green apple lover in you, and here's to creating lasting memories with every delightful sip!
Why you will like this green apple martini recipe:
You will find that this is the perfect drink to add to your martini recipes collection
This is a simple cocktail that does not require sour apple schnapps or sour apple liqueur
Vodka cocktails are popular and this will add apple cocktails to your menu
You can batch make this easy cocktail so you have plenty of time to relax with your guests
Why use Granny Smith Apples?
Granny Smith is one of the rather sour apples as it contains a high quantity of fruit acids. We contrast this tart apple with the sweetness of the Cointreau. You may also use simple syrup if you want this cocktail sweeter.
What you will need to make this green apple martini recipe:
Good quality vodka. Grey Goose, Kettle One or Tito's are ones that pair nicely in any cocktail recipes.
Green apples. Since you will be garnishing with granny smith apple slices, select a few smaller ones for the garnish.
Lime juice. This means fresh limes. Do not use bottled lime juice of any kind. Even if it is "freshly squeezed". Lime juice can change flavor if squeezed ahead of time, so be sure to squeeze your limes fresh when you make this cocktail
Orange or Elderflower liquor. Cointreau is our choice for orange liquor. St. Germain is our choice for elderflower liquor.
Cocktail Muddler. We use a wooden one, but there are several metal ones on the market.
Metal box grater. If you don't have one of these, you can simply dice the apple small.
Cocktail shaker. Simple is best. Use a 2 piece metal shaker, or a metal and glass shaker. If you get one with a lid, or a lid and strainer combo, it ends up creating more of a mess. Take note of what professional bartenders use. There is a reason they use what they use.
Hawthorne strainer & mesh strainer. Yes, you will want both. This drink needs a double strain. Spend a little extra to get a good quality hawthorn strainer. And keep a few of them, along with the mesh strainers on hand for the best bar set up
Ice cubes. Shaking a cocktail for at least 30 seconds is key to mixing it well and having it be icy cold!
Chilled martini glass. We always keep a few martini glasses in the freezer, but it only takes a few minutes to frost them up.
As an Amazon Associate, I may make a small commission, at no additional cost to you, if you make a purchase through product affiliate links in this post.
Equipment
Cutting board

Grater

Muddler
Ingredients
Ingredients for apple martini
1

Granny Smith apple

large

2

ounce

gin or vodka

1

ounce

Cointreau or St. Germain liquor

1

Lime

juiced
Instructions
Time for mixing this green apple martini!
Slice apple in half and cut a slice out for garnish, and set aside with some lime juice on to prevent browning.

Shred, or finely dice the rest of the apple.

Place apple into cocktail shaker and muddle to mash the apple.Add the lime juice and gin, and muddle some more

Add the gin or vodka and liquor, and ice and shake vigorously.

Double strain into a martini glass, and garnish with apple slice.
Nutrition
Calories:
333
kcal
|
Carbohydrates:
41
g
|
Protein:
1
g
|
Fat:
1
g
|
Saturated Fat:
0.1
g
|
Polyunsaturated Fat:
0.2
g
|
Monounsaturated Fat:
0.03
g
|
Sodium:
6
mg
|
Potassium:
272
mg
|
Fiber:
6
g
|
Sugar:
29
g
|
Vitamin A:
132
IU
|
Vitamin C:
28
mg
|
Calcium:
33
mg
|
Iron:
1
mg
Limoncell Martini (Lemon Drop Martini)
Delicious Limoncello Martini, similar to a Lemon Drop Martini, but way better! That's because we add Limoncello to really pack a lemony punch.
Check out this recipe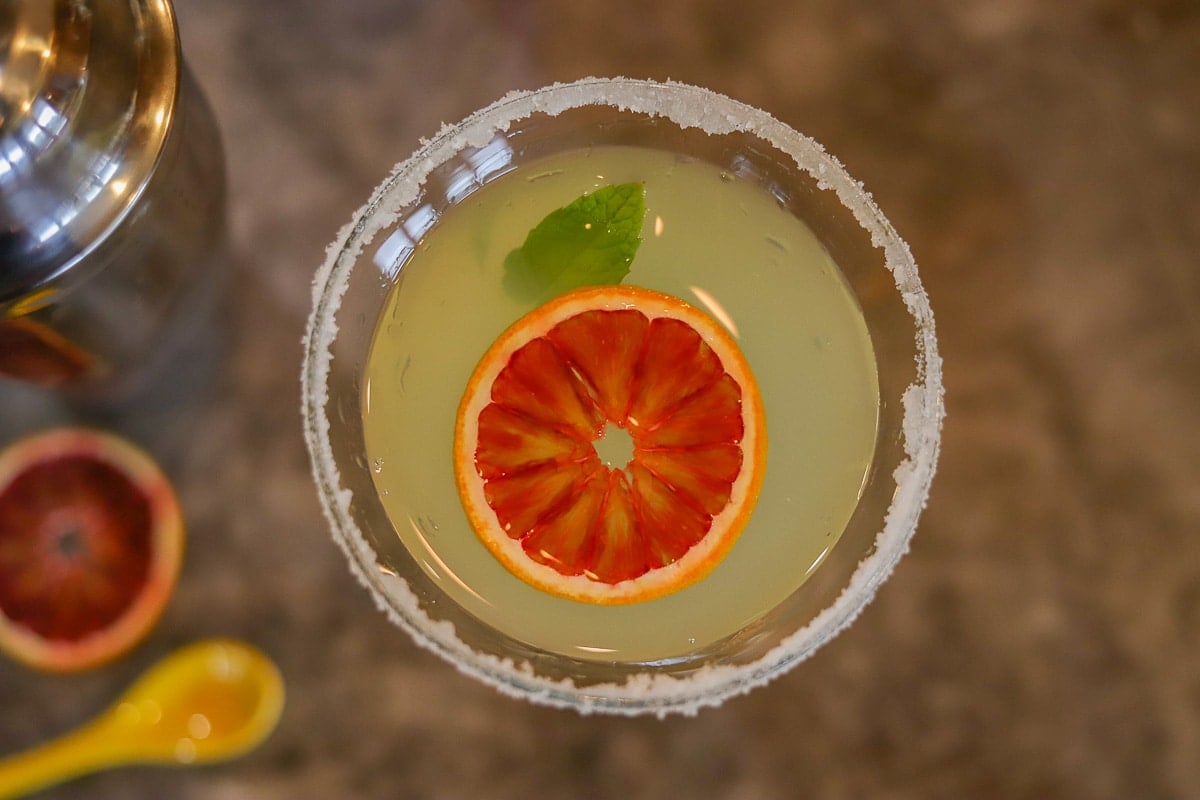 If you love martinis, you need to try this delicious Limoncello Martini from  Hilda's Kitchen Blog!