Today, we're diving headfirst into the tantalizing world of the Raspberry Martini—a concoction so versatile, it's a guaranteed hit for date nights, girls' nights, or any celebration that demands a touch of vibrant sophistication. When it comes to cocktails, a raspberry martini is one of my favorites. Making crafted cocktails at home is easier than you think. The key is truly fresh ingredients. I make my own raspberry simple syrup by just using fresh raspberries, water and sugar. This cocktail is made with a splash of St. Germain Elderflower liqueur for a dreamy layer of flavor.
Imagine this: you're about to host a glamorous get-together, and the spotlight is on you to deliver a drink that oozes charm and finesse. Fear not, for the Raspberry Martini is here to steal the show! Picture the vibrant crimson hue of ripe raspberries, dancing gracefully within a crystal-clear martini glass, beckoning your guests to indulge in its captivating allure.
But let's not forget the power of this fruity marvel when it comes to romantic date night. Seeking to impress your significant other with a whimsical date night? Look no further than the Raspberry Martini. With every sip, the delightful tang of raspberries mingles with the crispness of the vodka, creating a symphony of flavors! Oh, and after this date night cocktail, check out our DATE NIGHT DINNERS!
Don't forget to take a peak at our DATE NIGHT COCKTAILS!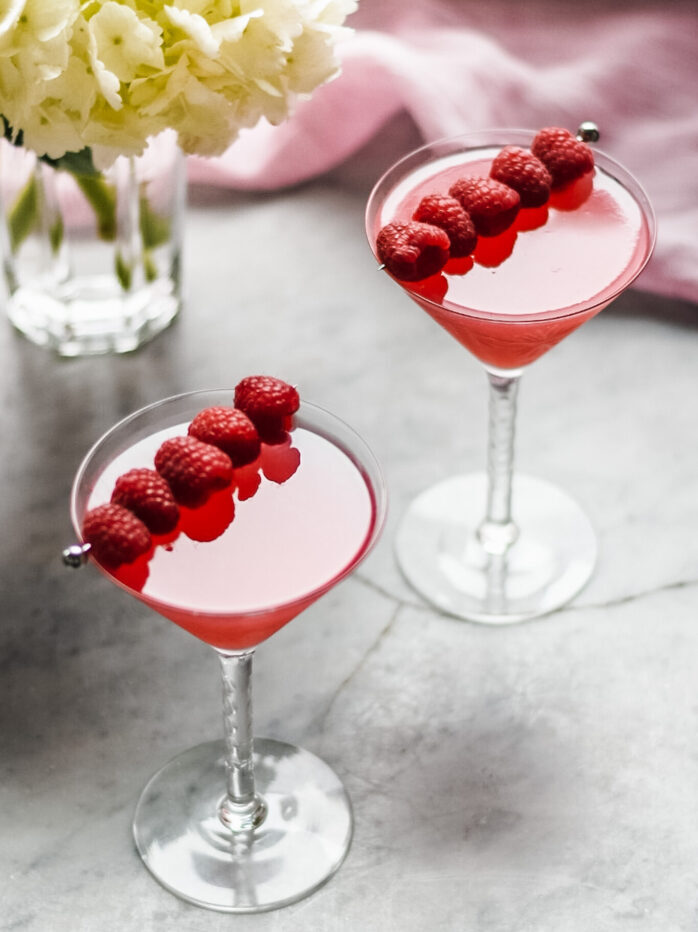 Ingredients
Ingredients for Raspberry Martinis
1 ½

ounce

lemon juice

1 ½

ounce

raspberry simple syrup

1

ounce

Elderflower liqueur

Like St. Germain

4

ounce

vodka
Ingredients for Raspberry Martinis Garnish:
Instructions
Skewer raspberries onto skewers.

Place vodka, elderflower liqueur, lemon juice, and simple syrup in a cocktail shaker. Add ice. Shake vigorously for 30 seconds.

Strain into two martini glasses. Garnish with skewered raspberries.
More martinis to make: