Years ago, I learned to make a simple baked brie in puff pastry to serve with wine, to impress my friends. As long as I had a crisp delicious wine, I knew I could count on complimenting it with baked brie in puffed pastry with a savory, or tart condiment. My go to for a while was either basil pesto, or raspberry jam. With the holiday season upon us, cranberries are readily available, and the perfect tart flavor to pair with a buttery brie cheese.
This is so simple to prepare ahead of time, and keep in the fridge till just before your guests arrive. The key is making sure it is ice cold, and goes into a hot oven, so the pastry puffs, and gets golden brown. We like to serve with slices of fresh artisan bread. And lucky me, my husband just happens to make a crusty artisan as well as sourdough bread that comes out crispy and chewy, perfect to slather with brie and cranberry.
Let's not forget why we are making this, though. We are all about the Wine Wednesday's around here! Find a crisp dry Riesling that you can serve ice cold with this warm, baked brie in puff pastry! Our recent obsession is a selection from Pacific Rim Winery in Washington. The wine is crisp, dry and lush with flavors of citrus, jasmine and minerals. Find this wine and more at pacificrimwine.com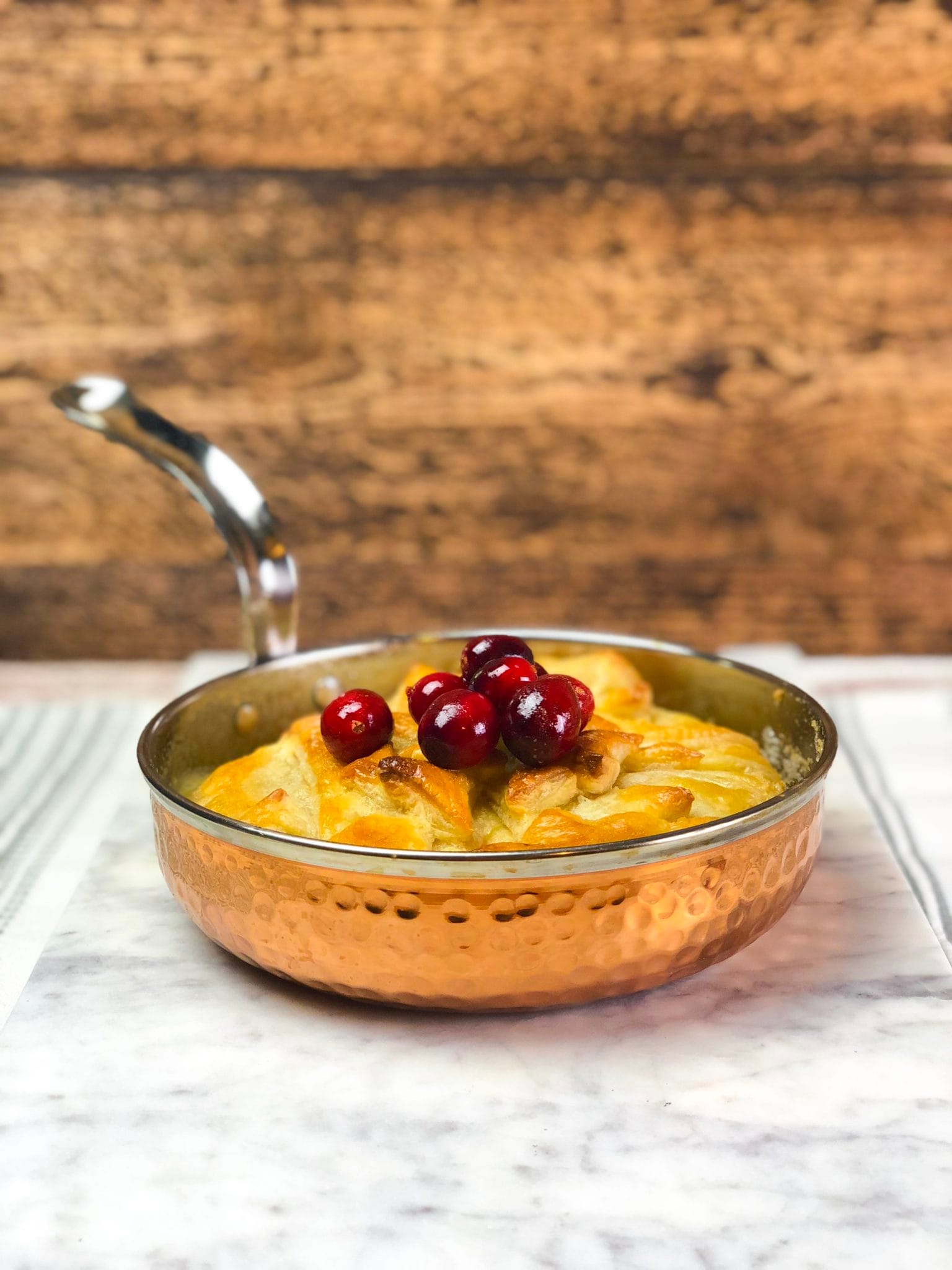 Ingredients
One sheet of frozen puff pastry

1/4

Cup

Cranberry sauce

see link below for our simple sauce!

One 8 oz round of Brie Cheese

1

Egg

1

Tablespoon

water
Instructions
Thaw Puffed Pastry at room temperature, under a towel (no longer than 30 minutes)

Using a butter knife, scrape white rind off of outside of brie

Place Brie in center of thawed puffed pastry

Place 1/4 cup cranberry sauce in center of brie

Make slits coming out from the edge of brie so that you can have strips to wrap up over brie

Continue to pull strips up until sealed

Use scraps of pastry to cut into shapes to place on top

Place Brie into freezer for 5 minutes or refrigerator for 15 minutes to firm up

Heat oven to 400 Degrees

Place Brie into an oven proof dish, or pan

Wisk egg and water in bowl, and brush top of pastry, lightly covering all pastry

Bake brie for 15-20 minutes, until golden and puffed.

Ovens vary, so watch for a medium brown, baking longer if needed

Set brie aside for at least 10 minutes before serving

Serve with crackers & sliced artisanal bread
Notes
Serve with crackers, artisanal bread, and Pacific Coast Riesling Wine for the perfect party!