Scale
Ingredients
Cinnamon Roll Dough:
1 cup

sourdough starter

1 tsp

salt

1/2 cup

sugar

1/3 cup

softened butter

2

eggs

1/4 cup

warm milk

1 teaspoon

yeast

3 cups

flour
Filling:
10 tablespoons

butter softened

2 cups

brown sugar

1/4 cup

cinnamon
Cream Cheese Frosting:
1

8 ounce packages cream cheese, softened

1

stick of butter, softened

1 1/2 teaspoons

vanilla

3 1/2 cups

confectioners sugar

3 tablespoons

heavy cream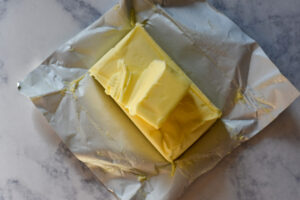 ---
Instructions
For the dough:
Mix butter and flour with a pastry cutter until incorporated. Use hands to make sure all the butter is mixed in. Add salt and sugar. Set aside.
Warm milk in a glass bowl in the microwave, until just warm to the touch. Sprinkle the yeast over the top and let foam for 5 minutes.
Stir sourdough starter, and eggs into the warm milk mixture and whisk.
Add wet mixture into the dry. Using a silicone spatula, mix until forms a dough. Cover with. moist, but not wet cloth, and let raise for one hour.
Re-wet the towel, and cover and place bowl in refrigerator overnight.
For the filling:
Mix brown sugar and cinnamon in a bowl, making sure to break up any clumps. Sit aside.
Make Frosting:
Using a mixer, whip butter and cream cheese until fluffy. Add in powder sugar a cup at a time, mixing in between.
Add in vanilla. Add in cream and mix. Set aside until rolls are ready.
To make the rolls:
Remove dough from refrigerator and place on lightly floured work surface.
At this time, roll dough out into a rectangle, about 1/4-1/2 inch thick.
Spread softened butter onto the dough. Leave one long edge with 1/2 inch non buttered.
Sprinkle the cinnamon and brown sugar mixture over the butter evenly.
Roll the dough up snugly leaving the unbuttered end to seal at the end.
Using a bench scraper or very sharp knife cut dough into equal pieces, and place evenly into a greased baking dish. We sometimes use 2 different dishes, to save one batch to take to a friend!
Cover with a piece of plastic wrap that you have sprayed with cooking spray.  Place in a warm, draft free location to allow rolls to double in size, 1 to 2 hours. If they are fully raised and you are not ready to bake, place in refrigerator.
Pre-heat oven to 400 degrees. Bake for 25 minutes, turning half way through. Pull the rolls out and allow to rest for at least 5 minutes before serving.
Finally, pass the frosting separately to put on while still warm.
---
Notes
Can add chopped pecans or raisins to the filling mixture, if desired.