Spicy Ranch Chex mix is always a crowd pleaser. For any of the big holidays, we make sure to make extra. Obviously none of it goes to waste! And it never fails, our friends start dropping hints about us making another big batch.
Rather than measuring out the Chex cereal, and other add ins, we pretty much use the entire boxes. Clearly we had to adjust the recipe to account for such huge amounts of cereal, pretzels, nuts and more!
Next, we use plenty of Franks Red Hot Sauce and Hidden Valley Ranch! With this in mind, you know we had to spice up the add ins too! In order to keep the flavors lively, we use Gardetto special request rye chips. Alternatively, you can add in any of your favorite spicy crackers! Make this mix your own!
And if you love a savory crunchy snack, give these Chili Lime Ranch Crackers a try!
1
Place 4 sticks of butter in a pot
2
Add 1 and 1/4 cup Worcestershire sauce
3
Add 1/2 cup hot wing sauce
4
Add 1 cup dry ranch dressing
5
Add 1 tablespoon granulated garlic
6
Add 1/2 teaspoon cayenne
7
Melt mixture over a medium heat stirring
8
Pour 3 boxes of Chex cereal into large pans, starting with corn Chex
12
Add 1 whole bag mini pretzels
13
Add 2 jars roasted peanuts
15
Divide it into 2 containers
16
Get your groove on by adding 2 boxes of groove cheezits!
17
Add 2 bags of rye chips!
18
Add a pound of roasted cashews
19
We added an extra cause we love them!
21
Spread onto 4 sheet pans
22
Time to add the spicy sauce!
23
Using a half cup measure, drizzle on each pan till finished
24
Mix to coat with wooden spoons
25
Now if you want it extra spicy, add some extra spicy seasoning!
26
Now it's time for 1 hour in a 250 degree oven
27
Set timer for 15 minutes and stir every 15 minutes
Print
Spicy Ranch Chex Mix for a Crowd
---
Ingredients for sauce for Spicy Ranch Chex Mix:
Ingredients for the dry portion:
1

16 ounce bag mini pretzels

 

2

16 oz jar roasted salted peanuts

 

1

lb roasted cashews

 

3

–

4

tablepoons of Honey Garlic Sriracha seasoning to sprinkle over top
---
Instructions
Equipment needed
2 large bowls or the top and bottom of a large turkey pan
1 sauté pot
Wooden spoon
If using a double oven, 5 rimmed cookie sheets
If using a single oven, 3 large baking pans (disposable aluminum pans work!)
Step 1:
Divide all dry mix ingredients between the 2 large pans
Mix gently by scooping with hands underneath and bringing mixture to top

 
Step 2: 
Preheat oven to 250 F
If you have a double oven, pre heat both!
Put all ingredients from list of wet mix into pan

 

Cook on medium to low heat until butter is melted
Using a half cup measuring cup drizzle the warm mixture over each pan

 

Continue to do so until evenly distributed

 

Allow mixture to cool enough to be able to mix with hands
Use hands to make sure all the dry ingredients are pulled up from bottom and sides so that all is coated with seasoning wet mixture
At this point, taste a few pieces of the chex cereal, for taste.
Feel free to add a bit more cayenne or garlic powder over the top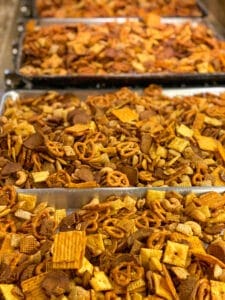 Step 3:
Place pans in oven
Set timer for 15 minutes
Bake for 1 hour, stirring every 15 minutes
Allow to cool
Store chex mix in tins, or mason jars or plastic bags
---
Notes
Get crazy with this mix! Sub out other nuts into this. Add bugles, gold fish, any kind of cracker!