How Long Does Raw Steak Last in the Fridge?
When it comes to the question of "How long does raw steak last in the fridge", here is the answer. Raw steak, when properly stored in the refrigerator at or below 40°F (4°C), can typically last for about 3-5 days. However, this timeline can vary depending on factors such as the specific cut of steak, the packaging, and the overall quality of the meat. A key to storing raw steak longer is to use an inexpensive Vacuum-Sealer
This post includes affiliate links where we earn a commission-no additional charge to you.

These days, more people are buying beef in bulk. Depending on what is available, this may be from a local farmer, a butcher, or even a big store like Costco. Bruce and I have been buying meat in bulk since we were first married. We felt like buying meat when it is on sale, and trimming it and freezing it gave us an advantage. First, it is a better value. But, it is also convenient. We can plan out our meals, and shop once or twice a week, rather than stopping every night on the way home from work. We are able to section off our standing (extra) freezer so we keep the meat with dates stored so that we use the older packed items first. We used to freeze in freezer bags years ago, but recently have started to use a Vacuum Sealer to seal our meat. This has been a game changer.
Reasons to Vacuum Seal your Raw Steak before Freezing:
Vacuum sealing raw steak before freezing offers several benefits, which can help maintain the quality and freshness of the meat for an extended period. Here are some key reasons to vacuum seal raw steak before freezing:
1. Prevents Freezer Burn: Vacuum sealing removes air from the packaging, preventing freezer burn, which can negatively affect the texture and flavor of the steak over time.
2. Extended Freezer Life: Vacuum-sealed steak can stay fresh in the freezer for a significantly longer period compared to regular plastic wrap or zipper-lock bags. This can help reduce food waste.
3. Preserves Flavor and Texture: Vacuum sealing helps maintain the original taste and texture of the steak, so it will taste as good as fresh when you eventually cook it.
4. Prevents Odor Transfer: Vacuum-sealed bags create an airtight seal, preventing the steak from absorbing any unwanted odors from the freezer.
5. Saves Space: Vacuum-sealed packages are typically flatter and take up less space in the freezer compared to bulky containers or non-sealed packaging.
6. Portion Control: You can portion your steak into individual servings before vacuum sealing, making it easy to defrost only what you need for a particular meal.
7. Easy Labeling: Vacuum-sealed bags are usually clear and flat, making it easy to label them with the date and type of steak, helping you keep track of what's in your freezer.
8. Hygienic Storage: Vacuum sealing provides a barrier between the steak and the environment, reducing the risk of contamination and ensuring a higher level of food safety.
9. Prevents Ice Crystals: Without air, there is less opportunity for ice crystals to form within the packaging, further preserving the steak's quality.
10. Convenient Sous Vide Cooking: If you enjoy sous vide cooking, vacuum-sealed bags are ideal for this method as they ensure a water-tight seal and even cooking.
11. Minimizes Drip Loss: When you thaw a vacuum-sealed steak, any moisture that is released during thawing remains in the bag, preserving the meat's juiciness.
12. Reduced Marinade Time: You can marinate the steak directly in the vacuum-sealed bag, allowing the flavors to penetrate the meat more effectively.
In summary, vacuum sealing raw steak before freezing helps maintain its quality, flavor, and overall freshness while providing practical benefits like portion control and space-saving. It's a valuable technique for preserving meat for an extended period.
HERE is the vacuum sealer that we use. It is inexpensive, easy to use, and works like  charm!
Raw Steak in a Butcher Case Versus Vacuum-Sealed in Plastic
When raw meat sits in a butcher case compared to being vacuum-sealed in plastic, several key differences in terms of preservation, aging, and potential bacterial growth occur. These differences can impact the meat's quality, safety, and taste.  There is a place for both. When we buy from the butcher, we are making the meal that night. However, when it comes to how long does raw steak last in the fridge or freezer, vacuum sealed is your best bet.
Raw Meat in a Butcher Case:
1. Exposure to Air: Meat displayed in a butcher case is exposed to the surrounding air. Oxygen in the air can lead to a process called oxidation, which can cause changes in the meat's color and flavor. This is known as "blooming."
2. Moisture Loss: Without proper sealing, meat can lose moisture through evaporation. This can result in meat becoming drier and less juicy over time. Ever notice when you stop in around 5:30 pm, how tired the steaks look. Reason.
3. Aging: Meat in a butcher case may be dry-aged or wet-aged, depending on the butcher's practices. Dry aging allows meat to develop more concentrated flavors and tenderness as moisture evaporates. Wet aging, on the other hand, typically involves vacuum-sealing meat to retain moisture and is used to enhance tenderness.
4. Bacterial Growth: Meat exposed to air is more susceptible to bacterial growth. While cold temperatures in the butcher case slow down bacterial growth, it doesn't eliminate it entirely. This is why meat in the case is typically stored at refrigeration temperatures. As long as your butcher has refridgerated cases there is no need to worry. If you go to a place out of town, and are un-sure, stick with the vacuum-sealed meat.
5. Shorter Shelf Life: Meat displayed in a butcher case has a limited shelf life and should be sold or consumed relatively quickly to maintain quality and safety. As we stated above, we love a good fresh cut steak from the butcher, just plan to eat it that day, or the next, or seal it at home properly.
Vacuum-Sealed Raw Meat:
When it comes to how long does raw steak last in the fridge or freezer, Vacuum-Sealing is key.
1. Minimal Oxygen Exposure: Plain and simple, Vacuum-sealing removes the majority of the air around the meat, reducing the risk of oxidation. This helps maintain the meat's color, flavor, and overall quality for longer periods.
2. Moisture Retention: We all love a juicy steak…Vacuum-sealed meat retains its natural juices because the packaging prevents moisture loss. This can result in a more tender meat when cooked.
3. Aging Control: When meat is vacuum-sealed, the aging process can be controlled more precisely. Meat can be dry-aged or wet-aged based on the desired outcome. Dry-aged meat can be aged for extended periods without drying out, while wet-aging helps maintain moisture content.
4. Reduced Bacterial Growth: Vacuum sealing creates an oxygen-poor environment, which inhibits the growth of spoilage bacteria. Obviously keeping it at the correct temprature in the fridge after you seal it is part and parcel of this step.
5. Extended Shelf Life: No one wants to find a spoiled steak in the fridge. Vacuum-sealed meat generally has a longer shelf life compared to meat displayed in a butcher case. The USDA typically recommends the use of "sell by" or "use by" dates on meat products, which indicate when the product should be sold or used for optimal quality and safety. These dates are intended to help consumers and retailers manage product quality and freshness. We have yet to find a store that does not use this system. And it helps to know how long your meat will last in fridge.
Keep it cool:
When it comes to storing raw steak in the refrigerator, it's crucial to follow the best practices to maintain its freshness and minimize the risk of foodborne illness. Raw steak, just like any other raw meat, requires proper handling and storage techniques to ensure its quality and safety. In this comprehensive guide, we will explore the best way to store raw steak in your refrigerator and freezer. Understanding food safety with raw beef or any meat products is always a good idea.
The first thing to remember is that raw steak should never be left at room temperature for an extended period. Bacterial growth thrives at temperatures between 40°F (4°C) and 140°F (60°C), known as the "danger zone." To prevent the growth of harmful bacteria, refrigerate raw steak as soon as possible after purchasing or bringing it home. One of the easiest ways to keep fresh meat cool is to take an insulated bag to the grocery store. The good news is, these bags are inexpensive, and you can keep them in your car, so you will always be prepared! High temperatures in the Summer, and extra stops on the way home can end up with a piece of steak this is room temprature.
Stock up when you find a deal on steak!
When we see a good buy on ground meat or steak, we like to stock up. Rather than storing in the original packaging, for best results we use airtight packaging. Sometimes this is at a store that sells bigger packages of meat. When we get home, we need to re-package the meat to store in our refrigerator and freezer. There are many methods that work, which we will list below, along with our favorite way and tips to help you keep your meat fresh in the freezer. The last thing you want is for the quality of the meat to deteriorate, due to air getting into the container.
How to store steak that has come out of a package:
Plastic Wrap: Wrap the cuts of meat  tightly with plastic wrap, ensuring there is no exposed meat. This method helps prevent the steak from drying out and also prevents cross-contamination with other food items.
Airtight Container: Place the raw steak in an airtight container, such as a food-grade plastic or glass container with a tight-fitting lid. This method helps maintain the steak's moisture and prevents odor transfer to other foods in the refrigerator.
Vacuum-Sealed Bag: Vacuum-sealed bags are excellent for storing raw meat, including steak. These bags remove much of the air, minimizing bacterial growth and preventing freezer burn. If you don't have a vacuum sealer at home, you can use freezer bags designed for long-term storage. Ensure you remove as much air as possible from the bag before sealing it. We use the Anova Culinary ANVS01-US00 Anova Precision Vacuum Sealer, Includes 10 Precut Bags, For Sous Vide and Food Storage
Heavy-Duty Aluminum Foil: If you prefer a simpler method, you can wrap the raw steak tightly with heavy-duty aluminum foil. This method helps preserve the steak's moisture and protects it from external odors in the fridge. Be sure that the foil is completely sealed.
How Long Does Raw Steak Last in the Fridge?

When it comes to the length of time you can store raw steak in the refrigerator, it's essential to adhere to the guidelines provided by the USDA (United States Department of Agriculture). According to their recommendations, fresh steak can be safely stored in the refrigerator for 3-5 days. It's crucial to check the expiration date or sell-by date on the packaging and ensure you consume the steak before that date.If you plan to store raw steak for an extended period, freezing is the best option. Freezing helps to extend the shelf life of steak while maintaining its quality.
How to freeze raw steak properly:
Plastic freezer bag: Wrap each steak individually with plastic wrap, not butcher paper or aluminum foil, and seal it as tightly as possible. Place the wrapped steaks in a resealable freezer bag and set the freezer as close to 0°F as it will go. The colder, the better. Steaks packaged this way will keep very well for about 3 months.
Vacuum-Sealed Steaks: If you have a vacuum sealer, vacuum-sealing the steak before freezing is highly recommended. It removes much of the air, preventing freezer burn and maintaining the steak's freshness for a more extended period.
How to thaw frozen steak properly:
Plan ahead: Take the frozen steak out of the freezer and place it in the refrigerator. Allow enough time for the steak to thaw slowly and safely. Thawing in the refrigerator is the best method to maintain food safety and quality.
Patience is key: Thawing a frozen steak in the refrigerator takes time. Depending on the size and thickness of the steak, it may take anywhere from a few hours to overnight. Plan accordingly and give it ample time to thaw thoroughly.
Keep it wrapped: Keep the steak in its original packaging or place it in a leak-proof plastic bag to prevent any juices from contaminating other food items in the refrigerator.
Place on a plate: To catch any potential drips, place the wrapped steak on a plate or shallow tray while thawing in the refrigerator.
Avoid temperature danger zone: Never thaw a steak at room temperature or in warm water. These methods can promote bacterial growth and compromise food safety.
Cold water submersion: If you're short on time, you can use the cold water thawing method. Fill a large bowl or sink with cold water and submerge the tightly wrapped steak. Change the water every 30 minutes to ensure it stays cold. Thawing this way generally takes about 30 minutes per pound of meat.
Microwave defrosting (as a last resort): If you're in a hurry, you can use the microwave's defrost function. However, be cautious as this method can partially cook the edges of the steak if not done properly. Follow your microwave's instructions and use the defrost setting at a low power level, turning the steak occasionally.
Cook immediately: Once the steak has thawed completely, it's essential to cook it promptly. Avoid refreezing a previously thawed steak, as it can affect the meat's texture and taste.​
Cheap cuts of steak that are suitable for marinating:
Flank Steak: Flank steak is a relatively inexpensive cut that can be quite flavorful when marinated. It's best to marinate it for a few hours or overnight to enhance its tenderness.
Skirt Steak: Skirt steak is another affordable option that benefits from marinating. It has good flavor and a nice texture when cooked correctly.
Chuck Steak: Although chuck steak is typically a tougher cut, it can be tenderized and infused with flavor through marinating. It's a budget-friendly choice that works well when marinated for an extended period.
Round Steak: Round steak is often a cheaper option, and marinating can help tenderize this lean cut and add flavor to it.
Blade Steak: Blade steak, also known as flat iron steak, is an economical cut that responds well to marinating. It has a good amount of marbling and can be quite tender when cooked to medium-rare or medium.
Using a marinade is an excellent way to add flavor and help tenderize steak. Transforming cheap cuts of meat into a delicious meal is just a few commen ingredients away. Acid, oil and flavorings that you have in your pantry are all that is needed.
Three ingredients needed for a simple steak marinade:
Acid: An acidic ingredient helps tenderize the meat by breaking down its fibers. Common examples of acidic ingredients used in marinades are citrus juices (such as lemon or lime), vinegar (such as red wine or balsamic vinegar), or even certain dairy products like Greek yogurt or buttermilk.
Oil: Adding oil to a marinade helps to retain moisture in the steak and prevent it from drying out during the cooking process. It also helps to distribute the flavors throughout the meat. Common choices for oil include olive oil, vegetable oil, or other neutral-flavored oils like avocado oil, or pecan oil.
Flavorings: Various flavorings are added to enhance the taste of the steak. This can include a combination of herbs, spices, and seasonings. You can use fresh garlic and rosemary for a very traditional marinade. Worcestershire sauce, soy sauce, or mustard are also a great way to add flavor. Smoked paprika, garlic powder and onion powder are 3 simple seasonings that will enhance the marinade if fresh garlic is not available. Use our Greek Seasoning as a savory addition.
Marinades are great to add flavor and help tenderize a cheaper cut of meat. However, marinades only penetrate the surface of the meat. If the cut is pounded thin, the chances are better that you will have more flavorful result. Marinades help, but there is more to it to truly get a cheap cut to be both flavorful and tender. Check out what Lindsay Mattison, a culinary writer and developmental editor has to share: 

We hope that this handy guide on how long raw steak be kept in the fridge has helped! We know that 3-4 days in the fridge is optimum for a freshly butchered piece of meat, but using freezer paper and tightly sealing meat for the freezer can save you money, and keep you from having spoiled steak!
The temperature of the fridge is key. Keeping the refrigerator temperature at or below 40°F (4°C) is essential for food safety. This temperature range slows down bacterial growth, reducing the risk of foodborne illnesses. Regularly monitor and adjust the fridge temperature to ensure it remains within the safe zone. Always trust your senses when assessing the freshness of stored steak. If it exhibits an off odor, slimy texture, or unusual color, it's best to discard it to err on the side of caution. The risk of food poisoning from bacteria growth can be prevented by adhering to these guidelines.
If you want to make a filet mignon as good as you would get at Ruth's Chris, check out this medium-rare filet mignon recipe with sauteéd mushrooms!
Not that you will have any leftover steak, but if you do, try out these steak crostinis!
Ingredients
Ribeye or Strip Steak Recipes

Flank Steak Recipes:

Flat Iron Steak Recipes:

Skirt Steak Recipes:

Sirloin Steak Recipes:

Cube Steak Recipes:

Stew Meat Recipes:

Shaved Steak Recipes:

Chuck Roast Recipes:

Rump Steak Recipes:

Leftover Steak Recipes:

Any Kind of Steak Recipes:
Now, check out some of these Steak Recipes from of our favorite Food Bloggers!
Ribeye or Strip Steak Recipes
Ribeye Steaks and New York Strip Steaks are both delicious cuts of beef from the muscle that runs along the rib section of the steer. The difference is in the amount of fat. Ribeye has a higher fat content than NY strip. While strip is a bit healthier than ribeye, the latter makes up for that in flavor and tenderness.
Beef Tenderloin Steak Recipes:
Flank Steak Recipes:
Flat Iron Steak Recipes:
Skirt Steak Recipes:
Sirloin Steak Recipes:
Cube Steak Recipes:
Stew Meat Recipes:
Shaved Steak Recipes:
Chuck Roast Recipes:
Rump Steak Recipes:
Leftover Steak Recipes:
Loaded Steak Stuffed Baked Potatoes
This Loaded Steak Baked Potato recipe is STUFFED full of steak, garlic butter, cheddar cheese, and topped with green onions, sour cream, and bacon… and the PERFECT recipe to use up leftover steak! The fluffy potato smothered in all this deliciousness makes for a hearty dinner or lunch. Pair with a s…
Check out this recipe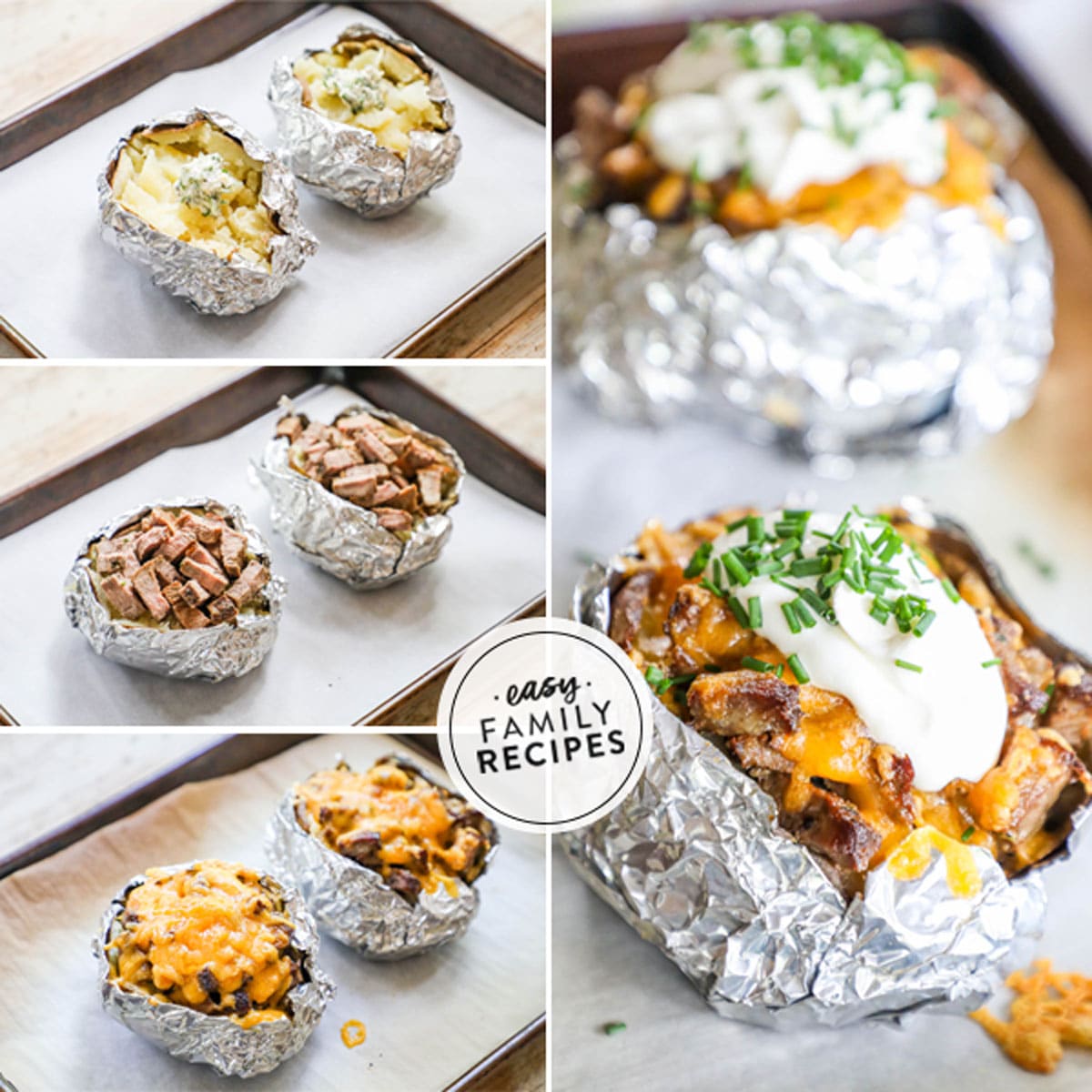 Caesar Steak Sandwiches: Easy Dinner Recipe | Busy Day Dinners
You are going to love this easy recipe for Caesar steak sandwiches. It's a great way to use leftover steak for a fast lunch or dinner idea.
Check out this recipe
Any Kind of Steak Recipes:
Air Fryer Steak Fajitas - Simply Happy Foodie
Air Fryer Steak Fajitas are flavorful & easy to make. Use less oil when air frying the steak & veggies. Air Fryer Fajitas are very versatile.
Check out this recipe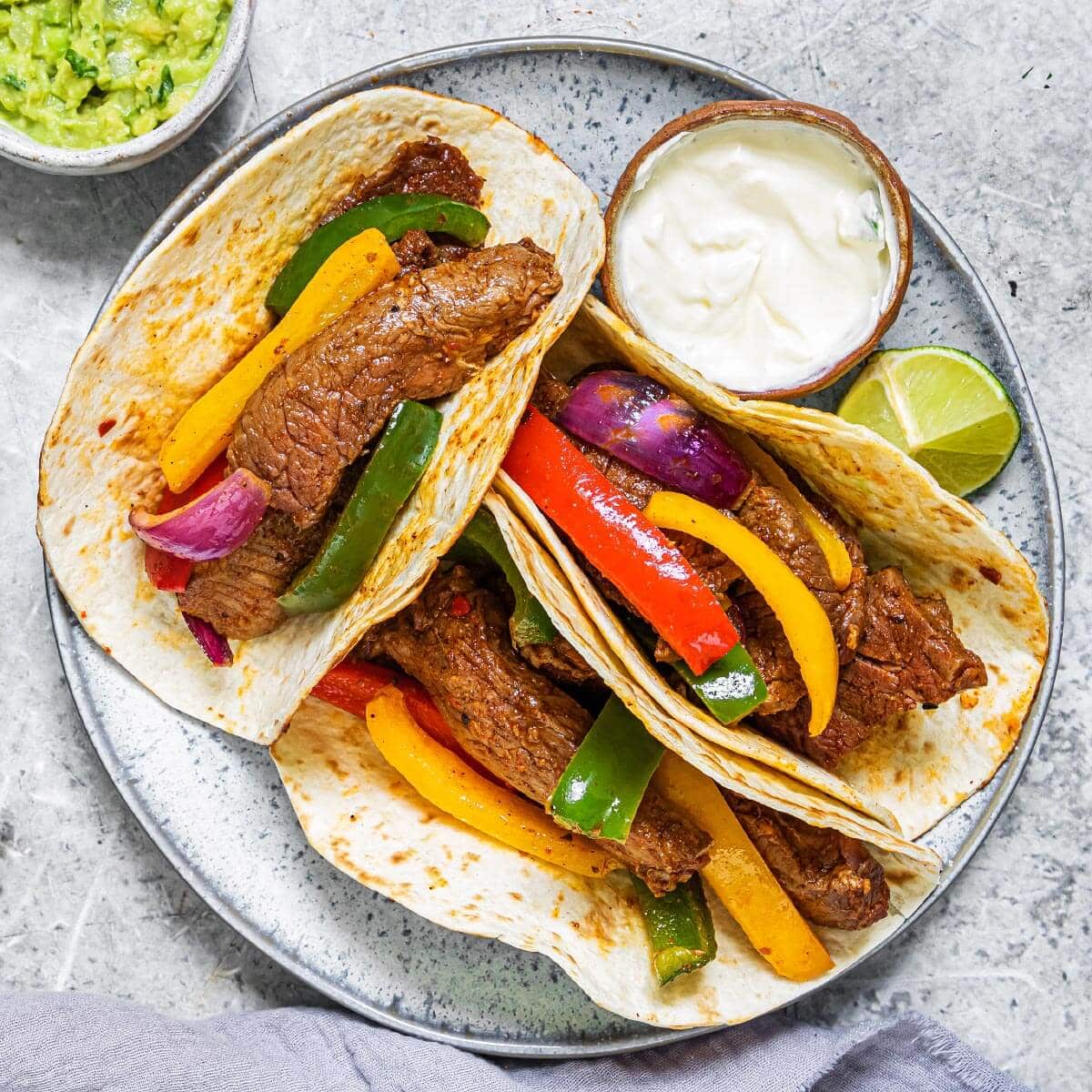 Braising Steak with Horseradish Gravy - Slow Cooked Beef
Try out this wholesome pot roast dinner, Braising Steak slow-cooked in a horseradish gravy stew, with carrots and shallots.
Braised in a cast iron pan, lidded casserole dish or in a slow cooker.
Check out this recipe