Hey there, pancake enthusiasts and breakfast lovers! Are you ready to tantalize your taste buds and embark on a mouthwatering morning adventure? Well, get ready to indulge in a stack of pure breakfast bliss because today, we're diving headfirst into the world of lemon ricotta pancakes with a delightful blueberry compote.
Picture this: soft, fluffy pancakes infused with a zesty twist of lemon and a creamy, dreamy ricotta surprise. And as if that weren't enough to make your stomach growl, we're topping them off with a luscious blueberry compote that will make your heart sing. Trust me when I say that your breakfast routine will never be the same again.
Whether you're looking to impress your brunch guests or simply treat yourself to a heavenly breakfast, these lemon ricotta pancakes are the answer to your cravings. So, grab your apron, turn up the stove, and let's dive into this scrumptious culinary escapade together. Your taste buds will thank you, and your mornings will never be dull again! Let's get flipping!
Why adding Ricotta cheese is a good idea for pancakes:
Creamy Dreaminess: Ricotta cheese adds a luxurious creaminess to the pancake batter, elevating the overall flavor and creating a delightful contrast to the lightness of the pancakes. Each bite becomes a velvety experience that will keep you coming back for more.
Protein Boost: Ricotta is an excellent source of protein, making it an ideal addition to your pancake batter. Protein helps keep you feeling full and satisfied for longer periods, making these pancakes a fantastic choice for a nutritious and fulfilling breakfast.
Calcium and Nutrients: Ricotta cheese is rich in calcium, a vital mineral for maintaining strong bones and teeth. It also contains other essential nutrients like phosphorus, vitamin A, and vitamin B12, which contribute to overall health and well-being.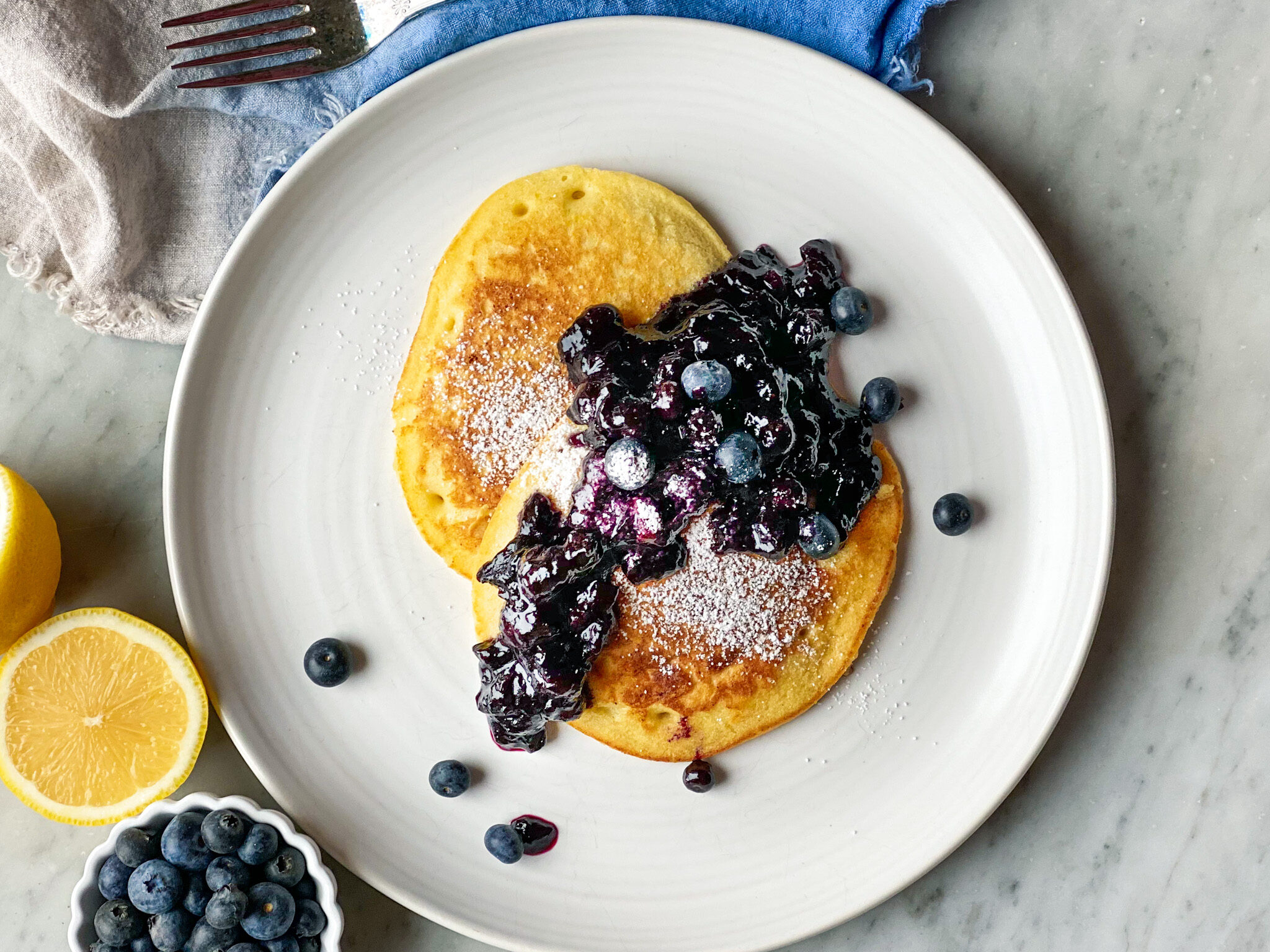 Ingredients
Ingredients for blueberry sauce:
1 ½

pints

fresh blueberries

½

cup

sugar

¼

cup

water
Ingredients for Lemon Ricotta Pancakes:
Instructions
Instructions for Blueberry Sauce:
Combine blueberries, sugar and water in a saucepan and bring to a simmer. Simmer until sugar is dissolved and blueberries soften. While this is cooking, make the pancake batter.

1 ½ pints fresh blueberries,

½ cup sugar,

¼ cup water
Instructions for Lemon Ricotta Pancakes:
Whisk the flour, sugar, baking soda, baking powder, and salt in a bowl.

3 cups flour,

¼ cup + 2 Tbls sugar,

2 ¼ teaspoon baking soda,

1 ¼ teaspoon baking powder,

1 teaspoon salt

Whisk the eggs in a separate bowl. Add in the milk, ricotta, and vanilla and beat until well combined. Stir the wet mixture into the dry ingredients, until just combined. Fold in the lemon juice, zest and lemon extract. 

3 eggs,

2 1/4 cups milk,

1 ½ cups full-fat ricotta cheese,

2 tsps vanilla extract,

¼ cup + 2 Tbls fresh lemon juice,

2 Tbls lemon zest,

1 teaspoon lemon extract

Heat a griddle and brush with a little melted butter. Drop batter onto griddle from a 1/3 cup measuring cup.

Serve cooked pancakes with butter and blueberry sauce. Sprinkle with additional blueberries and powder sugar. Serve with butter.

Powder sugar for dusting on top
Nutrition
Serving:
2
pancakes
|
Calories:
299
kcal
|
Carbohydrates:
49
g
|
Protein:
10
g
|
Fat:
7
g
|
Saturated Fat:
4
g
|
Polyunsaturated Fat:
1
g
|
Monounsaturated Fat:
2
g
|
Trans Fat:
0.02
g
|
Cholesterol:
63
mg
|
Sodium:
506
mg
|
Potassium:
203
mg
|
Fiber:
2
g
|
Sugar:
21
g
|
Vitamin A:
314
IU
|
Vitamin C:
9
mg
|
Calcium:
161
mg
|
Iron:
2
mg