Estimated reading time: 6 minutes
If you love BBQ, then you are gonna GO CRAZY for these smoked deviled eggs!  The smoky flavor of BBQ combined with everyones favorite appetizer will get any party started! When you think of deviled eggs smoked, think Western Premium BBQ hickory smoking chips. The sweet flavor of hickory wood chips is the perfect pairing to make this deviled eggs recipe so tasty!
Ingredients for Smoked Deviled Eggs
Hard boil the eggs
Bring a pot of water to a boil, then add the eggs and cook them for 10 minutes. Drain the place eggs in an ice bath to cool them down quickly, then peel them under running cold water (this will make it easier).
Cut the hard boiled eggs in half
To cut the eggs in half, run a knife around the edge of each egg. Gently crack open an egg and place it in a bowl. Use a spoon to scoop out all of the yolks into another bowl (you can also use your fingers).The yolks will be used for deviling later on so don't worry about getting them too clean!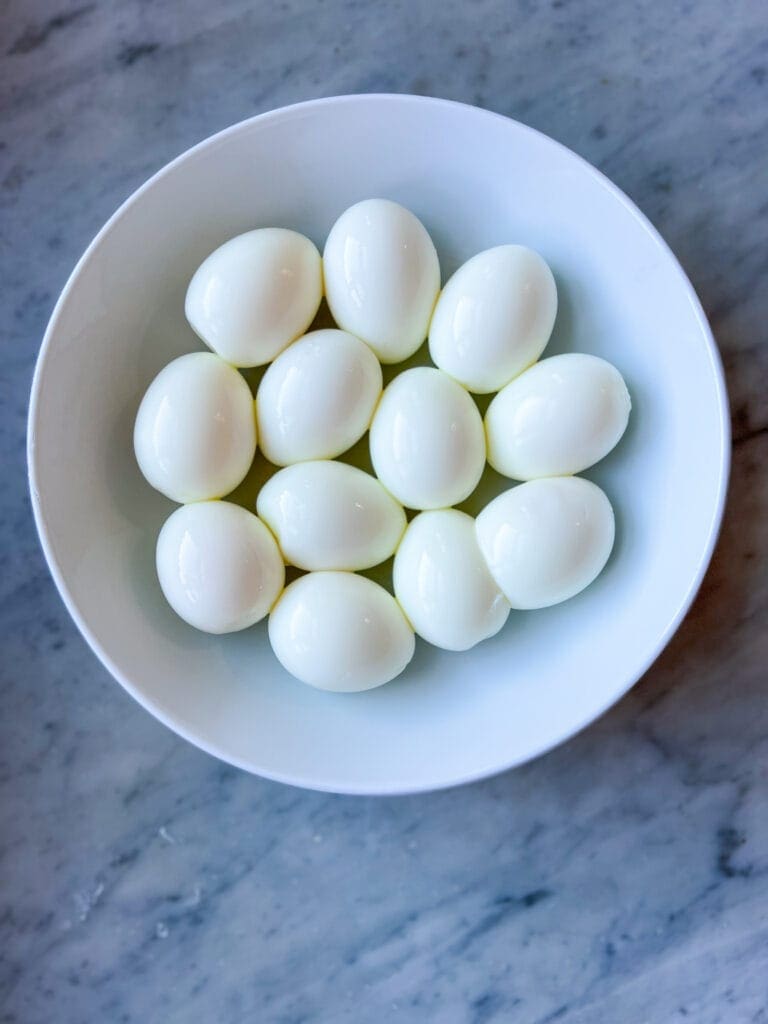 Scoop out the egg yolks
With a spoon, scoop out the yolks and place them on a parchment lined pan. Use a knife to cut the eggs in half. Be careful not to break the egg whites! Place the egg whites onto a serving plate, and put them in the fridge.
Get the wood chips ready for the grill
We used a gas grill for this recipe, but you can use your smoker, or charcoal grill. Western Premium BBQ has smoking wood chips for gas grills and smokers, and chunks for charcoal grills. For this recipe we used hickory chips on a gas grill. We think the sweet and strong hickory smoke flavor enhances these spicy deviled eggs! Place the hickory wood chips in a smoking container, or in a foil pouch with holes. Add them to your grill and give them a chance to start smoking. Be sure to have extra wood chips to add as needed.
Smoke the yolks
Smoking just the yolks and not the whites will allow for a smoky flavor, but still a bright white egg yolk for these smoked deviled eggs. Place the parchment lined pan with the yolks on the grill next to the smoke, and cover. Set a timer for 10 minutes. Check the eggs, and turn the pan. Smoke for another 10 minutes.
Create the filling for smoked deviled eggs
Allow the yolks to cool for about 10 minutes. Then mash with a fork. Add in the mayo, pickle juice, Dijon, hot sauce and salt & pepper, and mix. You can also use a hand mixer if you want to get it really smooth, but don't overdo it!
Pipe in filling and garnish!
Place the filling into a piping bag with the tip of your choice. Set the plate of eggwhites out and pipe with the smoky filling. Garnish with smoked bacon candy and scallions. Now it is time to grab these smoked deviled eggs and start the party! Your guest will love them! These smoked deviled eggs did not last long at our house. We plan to make them for upcoming holidays and family get-togethers. We hope you give this recipe, and our other smoky, tasty recipes featuring Western Premium BBQ wood chips a try!
Equipment
sheet pan

bowl

Piping Bag

Large pot

Gas Grill or smoker

Foil or smoker box
Ingredients
Ingredients for Topping Smoked Deviled Eggs
Instructions
Hard Boil Eggs
Fill a medium or large pot with enough water to cover eggs by at least 2 inches, but do not add eggs yet. Bring water to a rolling boil.Once water is boiling, add the eggs and adjust the temperature to maintain a rolling boil. Start a timer for 12 minutes and prepare an ice bath.When the timer goes off, remove eggs from the pot and immediately place into ice bath for at least 10 minutes before peeling. Peel eggs, and sit on a paper towel to absorb any moisture.

Slice the eggs in half lengthwise and scoop the yolks onto a parchment lined sheet pan with sides. Place egg yolks on a platter and put into fridge while you are smoking the egg yolks.
Prepare smoker and smoke egg yolks
Turn on gas grill, or electric smoker. Add Western Premium Hickory wood chips to a smoker container, or a foil pouch with holes. Place on grill until the wood begins to smoke.

Place the egg yolks on the sheet pan onto the grill next to the smoke. Cover grill, and allow to smoke for 10 minutes. Turn pan, and allow to smoke for another 10 minutes. Bring
Make the egg filling
Smash the egg yolks with a fork until no large pieces remain. Add in the mayonnaise, mustard, pickle juice,hot wing sauce, salt and pepper. Mix until well blended. You can use a hand mixer to make them smoother, but don't overdo it.
Pipe filling and garnish
Spoon or pipe the mixture back into the egg halves. Garnish with smoked bacon candy and sliced green onions. Drizzle with extra hot sauce if you like it spicy.
Nutrition
Serving:
2
deviled eggs
|
Calories:
156
kcal
|
Carbohydrates:
1
g
|
Protein:
7
g
|
Fat:
14
g
|
Saturated Fat:
3
g
|
Polyunsaturated Fat:
5
g
|
Monounsaturated Fat:
4
g
|
Trans Fat:
0.04
g
|
Cholesterol:
172
mg
|
Sodium:
316
mg
|
Potassium:
85
mg
|
Fiber:
0.2
g
|
Sugar:
0.3
g
|
Vitamin A:
269
IU
|
Vitamin C:
0.4
mg
|
Calcium:
29
mg
|
Iron:
1
mg