Make your holidays extra special with tasty combos that'll wow your guests. Imagine sipping on a fruity Blackberry Martini while enjoying smoky deviled eggs. And don't miss out on the fun – try margarita's to martinis, and dips to nibbles, these pairings create a mix of yummy flavors that'll make your celebrations awesome!
Appetizer & Cocktail Pairings Guide for the Holidays
Cocktails and delicious appetizers are the dynamic duo that take center stage at any gathering, be it a casual get-together or a swanky cocktail party. The art of food pairings with a favorite cocktail is a great way to start any party! Wine pairings are always a hit, but pairing a savory appetizer with a refreshing cocktail, now you have a party! Join us on a journey through an array of cocktail and appetizer pairings that celebrate a fusion of flavors, from tangy blackberry martinis to savory sensations like smoked deviled eggs, creating a symphony of taste that is sure to impress.
 Tex-Mex Appetizer & Cocktail Pairings
From Rachel at Craving some Creativity
A classic Mexican beer cocktail, this Spicy Michelada recipe is a lighter version of a bloody mary that'll go down super easy any time of the day! Pair with: Easy Grilled BBQ Shrimp Appetizer with Baked Flour Tortilla Chips. These are made with just 7 simple ingredients in less than 20 minutes. Juicy grilled jumbo shrimp are piled onto crispy baked tortilla chips with a dollop of creamy guacamole.
From Denay from Confetti & Bliss
This spicy strawberry jalapeño Margarita is the perfect summertime drink. It has a hint of sweetness, a fresh fruity flavor, and a kick of spice from the jalapeño. Pair with  tequila lime wings that are  crisp on the outside, juicy on the inside. Easy to make in an air fryer or oven, they're packed with Mexican flavor. Serve with creamy tequila-lime dipping sauce and juicy wedges of lime. Serve them as appetizers, lunch or dinner.
Spicy Jalapeno Basil Moscow Mule - The Short Order Cook
This spicy jalapeno basil Moscow mule is the best summer cocktail. Absolut Peppar vodka & ginger beer make a refreshing, fun, & easy drink.
Check out this recipe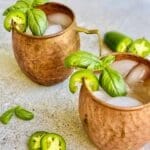 Pair with:
Watermelon Pico de Gallo (salsa) - The Short Order Cook
The sweet watermelon in this pico del gallo (salsa) balances the pungent onions, spicy peppers, and the fresh kick from the lime and cilantro.
Check out this recipe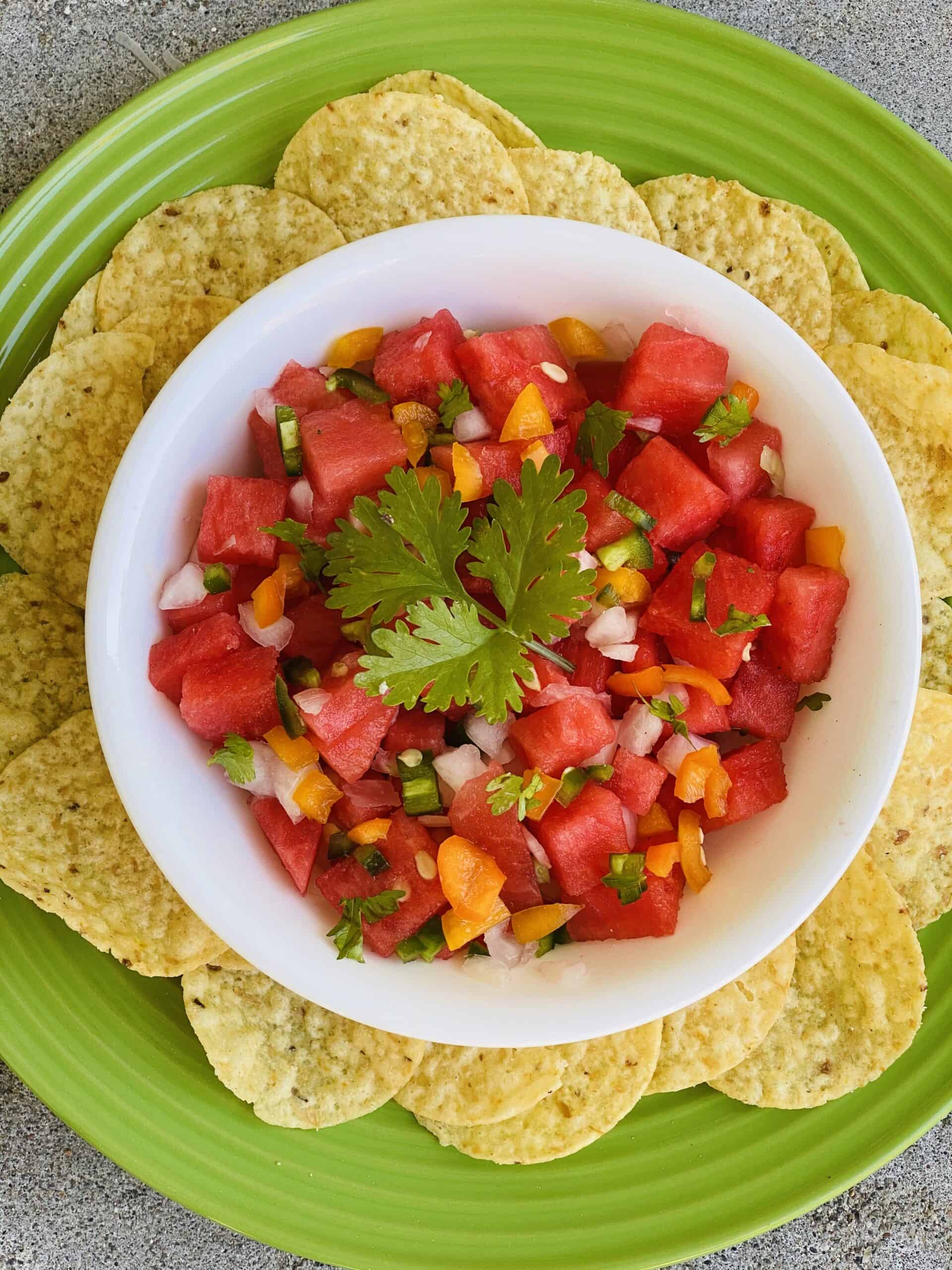 From Dana At Killing Thyme
Classics Appetizer & Cocktail Pairings with a Twist!
Let's start with a classic cocktail pairing. Make your own Bloody Mary mix and set up a bar! This vodka cocktail is a brunch favorite. The tangy flavors, accentuated by the addition of tomato juice and a hint of lemon juice, make it the perfect complement to Spicy Deviled Eggs! The perfect pairing for your next Brunch!
For a more timeless duo, consider making these pecan, spicy jelly & boursin tarts. The balances the bold flavors of the cocktail, making it an excellent choice for any cocktail hour.
From Elizabeth at Frugal Mom Eh
From Tiffany at Simply Happenings
The Best Pickle Juice Martini - Dash of Jazz
Make the best easy pickle juice martini, aka the pickletini, with just a few ingredients and about five minutes!
Check out this recipe
Pair with:
Easy Southern Deviled Egg Dip (Keto, Gluten-Free & Vegetarian) - Dash of Jazz
Classic deviled egg flavors are remixed into an easy dip that will satisfy keto, gluten-free, vegetarian, and traditional eaters alike!
Check out this recipe
Hugo Cocktail - Chrstina's Cucina
A hugo cocktail is a clear, refreshing chilled elderflower flavored cocktail. It's a popular, before-dinner summer drink in Europe.
Check out this recipe
Pair with:
Prosciutto and Melon (Prosciutto e Melone) - Christinas Cucina
Prosciutto and melon is a classic Italian antipasto dish which combines two contrasting flavors for a surprisingly delicious combination.
Check out this recipe
Festive Holiday Appetizer & Cocktail pairings
When it comes to a Christmas or New Years Party, you are gonna want to jazz up your usual cheese and crackers with a glass of wine. Time to bring out some fancy snacks and your signature cocktails. All of these look fancy and taste amazing, but they are simple to make.
Steak Crostinis are an easy appetizer that you can make from leftover steak, and bread. Seriously. A mix of ricotta cheese with horseradish, a drizzle of balsamic honey glaze and a few pomegranate arils, and this is the perfect bite! This recipe for Pomegranate Lemon Drom Martinis is great for entertaining because it's easy to make in bulk so that you have plenty for your party guests—and it   looks as beautiful as it tastes!
From Jess at Cooking in my Genes
Prepare for the festive holiday season with a delightful Winter Aperol Spritz that perfectly complements this seasonal Whipped Feta Appetizer. The creamy whipped feta is adorned with a simple homemade cranberry compote, topped elegantly with chopped pistachios, and finished off with a drizzle of honey, creating a flavorful and visually appealing pairing that will elevate your holiday gatherings.
This easy and warming German Mulled Wine recipe (Gluhwein) is a perfect drink to serve during festive season. It smells like Christmas and serves a crowd! Serve with these easy 15-minute Baked Figs with Goat Cheese, walnuts, honey and sage recipe.
Handheld mini charcuterie cups are ideal for parties and gatherings. Mix and match the filling to make unique and fun combinations that wow guests and fit your budget. Pair these cups with a cranberry gin cocktail!  No hard-to-find ingredients or complicated steps. Just a classic cocktail you can easily make at home.
From Amanda at Amanda's Cookin'
This gorgeous Antipasto Wreath is an eye-catching festive appetizer to snack on before your holiday meal, and it's so easy to assemble! Pair it with these totally dreamy White Lady Cocktails! The silky surprise of frothy gin, egg whites, and orange flavored liqueur make the white lady cocktail a beautiful sipper with a citrus bite.
Cheese Lovers appetizer & cocktail pairings
How about some good ol' Southern charm with the spicy cheesy goodness of this pimento cheese paired with this refreshing blackberry bourbon sour!
This delicious Whipped Goat Cheese Crostini with Roasted Grapes is the perfect appetizer for fall and winter. This appetizer goes so well with Apple Cider Bourbon Cocktails for a Fall holiday get together.

Seafood Lover appetizer & cocktail pairings
The smoky salmon flavor pairs perfectly with the slightly tart raspberry martini!
If you love island cocktails and seafood, then you will be obsessed with this combination from Angela at the Short Order Cook! This heavenly tropical Pina Colada on the Rocks is a shaken, not blended. It is the perfect breezy, slightly sweet drink to pair with Ahi Tuna Poke Nachos with Wontons.
From K.C. at Gluten-Free Foodie
Crisp, refreshing and surprising too, these Pineapple Rosemary Crush Cocktails are the sparkling libation you didn't know you were missing. Pair with Dynamite Salmon Appetizers that are almost as gorgeous on the plate as they are delicious – and they're so easy you'll have all your party guests fooled.
From Lisa at Delicious Table
Once you try this amazing shrimp cocktail recipe, you will never buy the shrimp ring of packaged pre-cooked shrimp at the store. Chic Champagne Cocktails glitter with real gold and bubbles of fine Champagne or prosecco for New Year's Eve or holiday celebrations like a Christmas party!
Vegan Appetizers & Sips
From Melissa at Vegan Huggs
Equipment
cocktail glasses

Serving Plates

Napkins

Small forks
Ingredients
Party Food Pairing for Tex-Mex Fans

Classics with a Twist

Festive Holiday Pairings

Perfect for Cheese Lovers

Seafood Lover Appetizers & Cocktail Pairings
Instructions
Have enough bottled water & plain seltzer on hand!

Have a back stock of additional varieties of crackers and veggies to fill in.